Herniated Disc Treatment from Our Chiropractor in Tracy, CA
Have you ever heard the term "herniated disc" and wondered what it meant? A herniated disc is a common condition that can affect people of any age. Furthermore, having a herniated disc can quickly lower your quality of life, leading to severe pain and other symptoms that can impact your ability to complete simple activities. From running, to walking, sitting, and standing, all of these activities can be impacted by a herniated disc.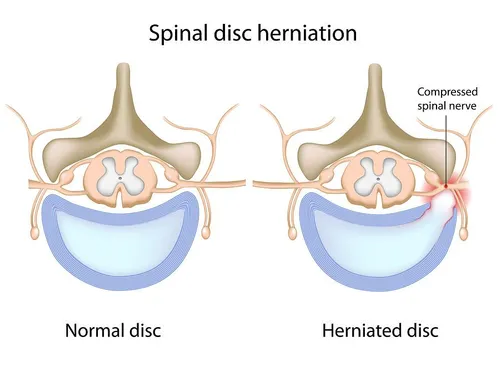 Our chiropractor can help treat your herniated disc and prevent pain from impacting your life. At Ringer Chiropractic, we're here to help our patients in Tracy, CA, find relief from herniated disc through chiropractic care that is 100% natural and effective. We take a holistic view on treatment, and know that the best care for herniated disc is a collaborated effort between our chiropractor and our clients.
What Is a Herniated Disc?
In between everyone's vertebrae are located discs that are filled with gel-like fluid that provide cushioning and support to the spine. These discs can rupture due to wear and tear, injuries, or due to a previous injury, resulting is what's called a herniated disc.
Herniated discs can lead to back pain, numbness, and tingling in the lower extremities, and even weakness and a feeling of pins and needles.
How Does a Chiropractor Treat a Herniated Disc?
If you're suffering from herniated disc symptoms, our chiropractor can help diagnose you and provide the best treatment. By far, the best treatment for herniated disc includes spinal decompression. This is also known as traction therapy, and involves gently pulling apart the spine to help alleviate compressed nerves from a herniated disc.
It also helps create negative pressure to help return the disc to its proper position, taking pressure off of surrounding tissues that cause the symptoms of herniated disc. Spinal decompression can be an effective treatment when combined with self-care and chiropractic adjustments to help realign the spine.
Find the Best Treatment for Back Pain at Ringer Chiropractic
Herniated discs are painful, but are treatable with the help of a professional. Call us today to see how we can help you heal at Ringer Chiropractic.