Ringer Chiropractic in Tracy, CA understands a thing or two about leg pain. This includes the fact that it can be a "catch all" term for a variety of injuries and specific pain points. Some of them might not even originate in your legs. Here, we hope to educate you about various locations and types of pain you may experience in your legs. We also want you to understand that your chiropractor is a great resource for treating and resolving all your pain issues, wherever they originate.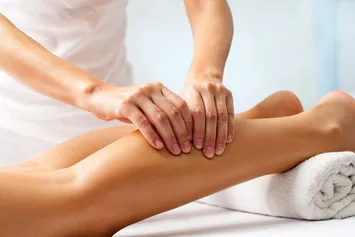 Types of Leg Pain
People tend to describe their legs in different parts. What many people generalize as leg pain may actually be hip pain, foot pain, ankle pain, knee pain, or even muscle pain.
Sciatica is a common type of leg pain. Sciatica originates in the lower back and follows the path of the sciatic nerve which moves through your hips and buttocks and down each leg. The pain can be quite intense. Fortunately, it usually only affects one side of the body.
A lot of leg pains are the result of some sort of spinal misalignment, injury, sprain, strain, or trauma. It is important to work with your chiropractor to identify the cause of your pain, its source, and to create a customized treatment plan to address your unique injury and pain management needs.
What Does Leg Pain Treatment Involve?
Leg pain treatment varies widely according to the type of leg pain you're experiencing and the ultimate cause of your injury. For the most part, your chiropractor will recommend a combination of therapies that may include any or all of the following treatment modalities:
Spinal manipulation
Hot and cold therapies
Corrective exercises
Chiropractic adjustments
Therapeutic massage
Physical therapy
Gentle stretching
The thing to remember about chiropractic treatment for leg injuries and pain is that chiropractic is a drug-free method of treatment. When it comes to your legs, pain is particularly problematic because it affects your mobility. We'll work with you to safely manage your leg pain and get you back on your feet again.
Contact Ringer Chiropractic in Tracy, CA today to learn more about how we can help you address and manage all your pain problems, including various pains in your leg.