At Ringer Chiropractic, we believe that pregnancy is a beautiful thing and an experience that can change a woman's life forever in a profoundly positive way. Unfortunately, physical symptoms such as nausea, fatigue, swollen feet, and back pain can be bothersome and be a source of unnecessary stress. Prenatal chiropractic care is an effective method of treating these physical symptoms, leading to a more productive and enjoyable pregnancy.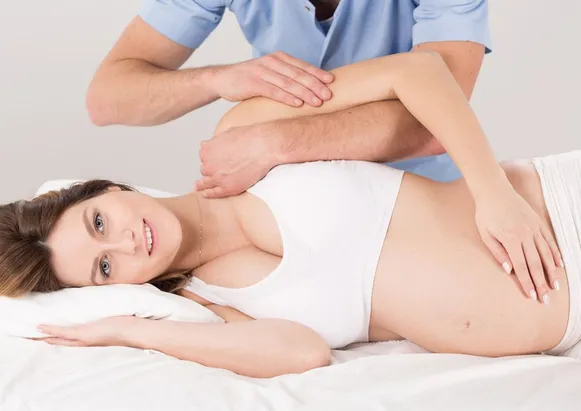 The Benefits of Prenatal Chiropractic Care
Back Pain Relief
During pregnancy, a woman's body adapts to carrying the added weight of the baby. This additional weight puts extra pressure on the spine, curving the mother's back and throwing her musculoskeletal system out of alignment. Often, this back pain is unbearable. A prenatal chiropractic adjustment can restore the proper curvature of the spine, correcting posture, relieving pain, and improving mobility. The benefit of starting prenatal chiropractic care early on in the pregnancy is that there will be less time for the spine to shift out of alignment. Once your spine has been corrected, appointments will be more about maintenance and addressing postural problems as they arise.
A Less Risky Pregnancy
It is not widely known how effective prenatal chiropractic care is in ensuring a healthy pregnancy. When the spinal column is thrown out of alignment, organs and the immune system as a whole cannot function at optimal levels. When your immune system stays strong and your organs can function properly, it is better for both you and your baby.
A Smoother Labor and Delivery
Another significant benefit of prenatal chiropractic adjustment is that it helps keep the hips, pelvis, and spine properly aligned. It also ensures the nervous system is functioning properly, and that communication within the body is uninhibited. Nerves are responsible for controlling contractions, as well as dilating the cervix. When all of these things work together in sync, labor and delivery are much easier.
Prenatal Chiropractic Care in Tracy, CA
At Ringer Chiropractic, we have years of experience offering natural and effective prenatal chiropractic care to mothers in Tracy, CA, and the surrounding areas. If you are looking for a chiropractor near me to relieve your back pain and create optimal pregnancy conditions, call us at (209) 835-2225. You may also request an appointment online.