If you're experiencing neck pain, lower back pain, or restricted mobility due to a personal injury, physical therapy can help relieve your pain and restore mobility. At Ringer Chiropractic, we often include physical therapy exercises in our chiropractic treatments. These FAQs from our Tracy, CA chiropractor explain more about the benefits of physical therapy.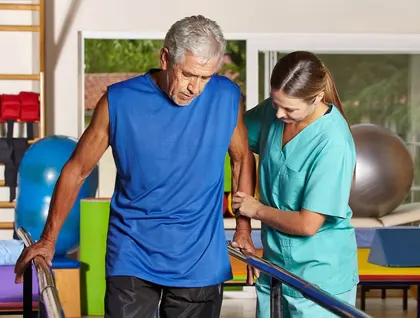 What is physical therapy?
Physical therapy consists of stretching and strength building exercises that help relieve pain and restore body function after a debilitating injury or medical condition like a stroke. Physical therapy can help restore strength, balance, and mobility as well as expedite healing of a personal injury.
Who's a candidate for physical therapy?
If you've suffered a personal injury that caused damage to your muscles, ligaments, nerves, tendons, or joints, you can benefit from physical therapy treatment. Physical therapy exercises help your body heal, so you can recover more completely and quickly from your injury.
How long do I have to undergo this treatment?
Physical therapy treatments vary depending on the extent of your injury or the state of your medical condition. Our chiropractor will personalize your therapy to enable you to get the most from your treatment.
Can physical therapy be used in conjunction with chiropractic care?
Physical therapy exercises are often included in our chiropractic treatment plans to expedite healing of injuries that cause headache pain, neck pain, shoulder pain, and lower back pain. We'll recommend stretching and strengthen building exercises you can do at home to enhance flexibility, range of motion, and mobility.
Why does your Tracy, CA chiropractor incorporate physical therapy into his treatments?
Physical therapy works in conjunction with chiropractic adjustments to expedite recovery from a personal injury. Our chiropractor utilizes adjustments to ease muscle tension and correct imbalances in your system that are causing headache pain, neck pain, or lower back pain. Once your system is in balance, we'll recommend physical therapy exercises to strengthen injured muscles, restore body function, and complete your recovery.
At Ringer Chiropractic, we often combine natural therapies like chiropractic adjustments, hot & cold treatments, massage therapy, nutritional counseling, and physical therapy to help our patients recover quicker from personal injuries. After a thorough evaluation of your condition, we can personalize a well-rounded treatment plan conducive to your healthcare needs.
Learn More about Rehabilitation Services Treatments from Ringer Chiropractic
If you're suffering from the pain and discomfort of a personal injury, sports injury, or chronic condition, contact Ringer Chiropractic for diagnosis and treatment. We'll show you how you can benefit from the combination of chiropractic care and physical therapy in expediting your healing. To schedule a consultation with our Tracy, CA chiropractor for personal injury treatment, call (209) 835-2225 at your earliest convenience.