Chiropractic care can successfully treat sports injuries and help you get back into your exercise routine and favorite sports faster.
Common Sports Injuries and Symptoms
Everyone knows it is important to exercise and maintain an active lifestyle to ensure health and wellness, but those same activities that keep you energized and healthy can also cause accidental injuries. Common sports injuries include strains and sprains, tendonitis and stress fractures.
A strain is a pull or tear in a muscle. A sprain is a pull or tear in a ligament. Both can occur when the muscle, tendon or joint is overused or stretched outside of its normal range of motion. This injury can result in pain, swelling and bruising.
Tendonitis is an over use injury of the joint. Common tendonitis injuries include, tennis, golfer and little leaguer's elbow, runner's knee and carpal tunnel syndrome. Symptoms of tendonitis include, loss of range of motion, soreness when moving the joint and slight swelling.
Stress fractures are small hairline cracks in the bones. They most commonly occur in the shins and feet and are experienced primarily by runners who increase their distances too quickly. However, they can also occur in people who walk many miles a day. The most common symptom is pain while walking or running.
Non-Invasive, Drug-Free Treatment with Chiropractic Care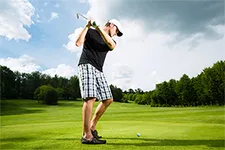 For the first 48 hours after your injury, it is recommended to apply ice and heat to stop inflammation and promote tissue recovery. After 48 hours, getting up and being active can be the best medicine, but it can be difficult to determine when and how to resume your activities without irritating the injury or making the injury worse. Our chiropractic doctor can examine your sports injury and determine the best course of action to facilitate healing and speed your recovery time.
Our chiropractor will perform a thorough physical examination that may include x-rays in order to determine the extent of your injury and the right course of treatment. Chiropractic treatment options typically include chiropractic adjustments, massage therapy, rehabilitative exercises and nutrition counseling. Chiropractic adjustments can be used to realign your vertebrae and extremity joints, and they are very effective at treating, carpal tunnel syndrome, tennis elbow and runner's knee.
Massage therapy is very effective at increasing circulation throughout the body and in injured areas. It also makes chiropractic adjustments easier to perform, more effective and less uncomfortable. For athletes and avid exercises, receiving regular massages helps the muscles release lactic acid, which dramatically reduces muscle recovery time after exercise.
Rehabilitative exercises help restore function and strength in injured muscles and joints and can dramatically reduce recovery time.
Each individual is different, and their nutritional needs are different. Our professional staff can assess your current caloric and nutritional needs and recommend diet suggestions to improve your overall health and speed your recovery time.
To schedule an initial consultation for your sports injury, call our Tracy chiropractic office at (209) 835-2225.