If you are like millions of Americans, you suffer from back pain. A chronic or acute backache can prevent you from working, going to school, taking care of your family, and doing the things you love. Fortunately, our Tracy, CA chiropractor provides safe and long-lasting relief from debilitating back pain.
Causes of Back Pain
Many medical conditions can cause back pain, especially illness or injury to the bones, connective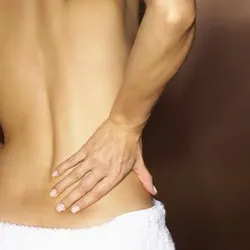 tissue and muscles associated with the spinal column. The spine consists of 33 ring-shaped bones, called vertebrae, which are stacked upon one another. The bones of the spinal column form a protective and flexible housing for the spinal cord, while nerves connected to the spinal cord protrude from tiny holes in the vertebrae. Muscles also connect to the vertebrae to provide a wide range of motion, and tough, rubbery discs between each vertebra act as shock absorbers to prevent the vertebrae from grinding against one another.
Back pain can occur when problems develop with the bones, muscles, nerves, and discs of the back and spine. The spine relies on perfect alignment for symmetry and function – a misaligned vertebra pulls the attached muscles to cause muscle tension, spasms, and cramping. Misaligned vertebrae can press against nerves to cause pain. Cushioning discs between each vertebra can also slip out of place or even rupture to press against these nerves and cause pain. Stress, overuse, injury, excess weight, a sedentary lifestyle, and poor posture can are among the other causes of back pain.
Our Tracy Chiropractor Provides Treatment to Relieve Back Pain
A thorough exam and X-rays should reveal the source of your back pain and, depending on the cause, our Tracy, CA chiropractor could prescribe a course of chiropractic care and massage to relieve your back pain.
Chiropractic care relieves back pain by restoring the bones of the spinal column to their proper positions, easing tension on muscles and connective tissue. A chiropractic adjustment also relieves pressure on discs to prevent them from pressing against nerves.
Massage relaxes muscles, stimulates circulation and promotes healing. Therapeutic massage also erases muscle tension and melts muscle spasms. In addition to massage, our chiropractor might suggest electrical muscle stimulation and intersegmental traction to relieve your back pain.
Our Tracy chiropractor can also help you address other issues that may be causing back pain. Dr. Ringer may give you pointers on improving your posture, suggest an exercise plan to strengthen your muscles, or offer nutritional support to help you lose weight.
You do not have to live with back pain anymore. Whether your acute or chronic back pain is the result of injury or illness, chiropractic care and massage are likely to help. Contact your Tracy, CA chiropractor today to learn more about relieving your back pain.