Injury to the seven cervical (neck) vertebrae, including their associated discs, nerves, muscles and lymph nodes, can cause neck pain that only worsens without appropriate treatment. Holding the head rigidly in one position for an extended period, sleeping with the neck held in an abnormal position and pinched nerves are the most common reasons for neck pain.
Cervical Herniated Disc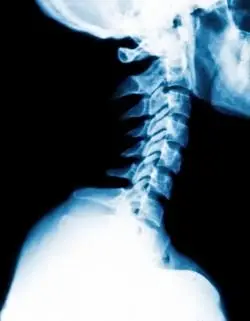 A cervical herniated disc may be diagnosed if you suffer chronic neck pain that radiates from the neck into the arms. Intradiscal pads of tissue existing between cervical vertebrae may suddenly weaken and bulge outward, pinching sensitive nerves and causing pain that is sometimes accompanied by muscle weakness in the arm, hand and fingers. Cervical herniated discs may be caused by disc degeneration, spinal injuries that produce microscopic tears in the outer layers of cervical discs or engaging in repetitive activities that put excessive strain on the upper part of the spine.
Massage Therapy for Neck Pain
Massage therapy provided by Dr. Ringer stimulates circulation to inflamed tissues, improves soft tissue elasticity and eases heightened muscle resting stress created by cervical pathologies. Therapeutic massages for neck pain also targets muscle knots (TrPs, or trigger points) often responsible for neck pain. Patients suffering from an abundance of muscle knots in the neck area may be diagnosed with myofascial pain syndrome, a condition responsible for easily triggered systemic aches and pains.
Neck Pain and Auto Accidents
Automobile accidents are often a primary cause of painful neck and back injuries. Victims of auto accidents can also experience stiffened neck muscles within 24 hours of the accident that inhibit movement and cause sharp, radiating pain over the neck and upper back. Whiplash happens because the body is not prepared for the sudden, severe jolt that occurs at the moment of impact. Auto accident victims may also suffer spinal misalignment or a condition known as "delayed onset muscle soreness".
Corrective Exercises for Neck Pain
Corrective exercises for neck pain initiate healing of damaged tissues and restore normal functioning of the musculoskeletal and nervous system. Corrective exercises also rebuild muscle, joint and bone strength by involving the body in a series of exercises that focus on reducing inflammation, improving blood circulation and stimulating release of endorphins, the body's chemical response to self-healing and reducing pain. In addition to a regimen of corrective exercises for neck pain, Dr. Ringer may recommend patients enhance their recovery with other chiropractic treatments such as massage therapy and manipulation and adjustment of cervical vertebrae.
Adjustment and Manipulation Eases Neck Pain
Dr. Ringer recommends whiplash and DOMS patients undergo spinal adjustment and manipulation techniques that gently move cervical vertebrae back into their proper positions for relief of painful nerve compression and restricted mobility. In addition, an adjustment and manipulation can help eliminate lower back pain and reduce severity of migraines caused by disruptions within the nervous system.
If you are tired of taking pain medications and feeling miserable from chronic neck pain, get rapid relief by calling our office today and making an appointment with Dr. Ringer.