Put an End to Muscle Pain with Us
You wince, you stretch, you press - but that muscle pain is still there, distracting you and keeping you from living life to the fullest. At Ringer Chiropractic, your comfort and health is our utmost priority, and we look forward to helping you achieve that with the help from our skilled medical team. Our Tracy, California chiropractic office helps mitigate the symptoms of muscle pain while correcting your spinal alignment to improve your overall health. We do this in a variety of ways.
Manipulating Trigger Points
When you book an appointment with Dr. Ringer, you'll be assessed and examined to determine the source of your muscle pain. It is typically a symptom of underlying larger issue within the musculoskeletal structure. When the body heals itself from an injury, it may leave behind a lasting echo in the form of a myofascial trigger point - a point within the healed muscle that contributes to stiffness, pain or weakness long after the muscle has corrected itself. You may have not even been aware of the original injury or strain but you still find yourself experiencing the aftereffects. This is why regular chiropractic care is so important. During your treatment, Dr. Ringer will use specialized pressure and manual manipulation to release the tension in these trigger points, allowing your body to continue on its path to healing.
Other Trigger Point Treatments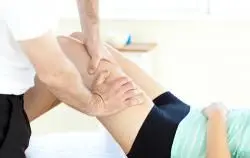 Manual pressure and manipulation is only one of a variety of treatments that may be used to correct your muscular pain. Our team can also suggest stretches and lifestyle changes that you can utilize outside of the office that will help with your current muscle problems and also prevent future ones from occurring. Dry needling, which uses very fine acupuncture needles, anatomical expertise and only a few minutes per trigger point, offers an alternative option to patients that may not respond well to fingertip pressure or other chiropractic tools.
Ongoing Care for Muscle Pain
While a single chiropractic visit, much like other medical care, will help bring relief, a regular regimen of visits is required to maintain health and comfort. In our Tracy, CA chiropractic office we strive to ensure that you always feel welcomed, that we're ready with answers to any questions you may have, and that your health remains our top concern. If you've been "making do" with heat packs and over the counter medication, it's time that you look into a more reliable and ongoing solution for your muscle pain. We're happy to help you find the path to this solution with every visit.
Are you ready to discover your path to a life free of muscle pain? Call our office at (209) 835-2225 to book your first appointment today. Your body supports you, so let us support your body at Ringer Chiropractic!