Pregnancy Chiropractic Care in Tracy
Chiropractic care offers important health benefits at all stages of life – especially during pregnancy. The body goes through many changes during the nine months of gestation, putting increasing amounts of strain on a mother's joints, nerves and tissues. These changes combined with an average weight gain of between 25 and 35 pounds; this can result in pain, stiffness and an increased risk of injury. Chiropractic care can help restore and maintain balance within the body, promoting a healthy musculoskeletal system throughout pregnancy and into the post-partum period.
How Pregnancy Causes Joint Pain, Back Pain and Other Symptoms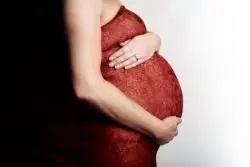 The spine is the primary support structure of the body. During pregnancy, a woman's center of gravity changes, increasing the amount of pressure put on the lower back. This can lead to vertebral subluxations and increased pressure on the spinal discs. As the baby grows, the curvature of a woman's spine will also change, resulting in muscle tension, pain and changes in posture that can increase the risk of a fall.
In addition, the body produces a bevy of hormones during pregnancy, one of which is responsible for loosening the joints in preparation of birth. Known as "relaxin", this hormone can make a woman's joints much more flexible than normal. This increases the risk of injury and dislocation. Chiropractic care helps to maintain the joints in their ideal position, preventing them from slipping out of place and putting pressure on the surrounding nerves.
Another common complaint of pregnancy is sciatica. This condition is caused by pressure put on the sciatic nerve, resulting in pain, tingling or numbness that radiates through the hips, buttocks, thighs and into the feet. Sciatica can be extremely uncomfortable, but chiropractic can typically alleviate symptoms within just a few treatment sessions.
Chiropractic Care for Pregnant Women in Tracy
Here at Ringer Chiropractic, we help pregnant women cope with the physical stress of pregnancy and birth, providing maternal chiropractic care throughout pregnancy and the post-partum period. We can help address spinal compression, posture imbalances, subluxations and nerve irritation, helping to make pregnancy as comfortable as possible.
We offer safe and gentle adjustments, as well as a variety of therapies designed to reduce pain and minimize the risk of injury. This may include massage for tight muscles or exchanging high impact exercises for other activities, such as swimming or stationary biking, which are easier on the joints. We may also recommend changes in sleep posture and nutrition to ensure the body is well-rested and healthy throughout pregnancy.
Despite what you may be experiencing, pregnancy does not have to be uncomfortable. It is never too late to begin chiropractic treatment during a healthy pregnancy. If you are expecting a baby or have recently given birth, your body may not be in proper alignment.
For more information about Pregnancy Chiropractic Care or to schedule an appointment, call us today at (209) 835-2225.